Diary
December 21, 2016
An Assortment of Christmas Sweets and Desserts!
Οι μέρες αυτές είναι πολύ ιδιαίτερες και όλοι μας έχουμε πολλές απαιτήσεις από τις γιορτές… Λες κι αν δεν κάνουμε το τέλειο τραπέζι, το τέλειο δώρο, το τέλειο ντύσιμο δεν θα νιώσουμε αυτό το φευγαλέο πνεύμα των Χριστουγέννων...
Ξεχνάμε, λοιπόν, ότι το πνεύμα αυτό τρέφεται από την αγάπη... Δεν θέλει και πολλά πολλά, ούτε γκουρμέ πιάτα, ούτε αστραφτερά δώρα…
Αυτό που θέλει, πέρα από την αγάπη, είναι χρόνο. Ποιοτικό χρόνο τον οποίο θα περάσουμε παρέα με τους ανθρώπους που αγαπάμε. Ε, αν μαζί με τον χρόνο μας βρίσκεται και κανένα γλυκάκι, τότε... ακόμα καλύτερα! Μάλιστα, μια καλή ιδέα θα ήταν να ετοιμάζαμε τα γιορτινά γλυκά μας όχι μόνο γι' αυτούς που αγαπάμε, αλλά ΜΑΖΙ με αυτούς που αγαπάμε!
Στο ημερολόγιο αυτό, λοιπόν, θα σας μιλήσω για τα γλυκά των γιορτών.
Ας δούμε, λοιπόν, τι ετοιμάζουμε αυτές τις μέρες για την παρέα, τους φίλους και την οικογένειά μας...
Ξεκινάμε από τα πιο παραδοσιακά:
Κουραμπιέδες…
Στους κουραμπιέδες σας έχω τους πιο νόστιμους Κουραμπιέδες. Αφράτους, τραγανούς και... απολαυστικούς! Δείτε εδώ τη συνταγή τους.
Μελομακάρονα!!!
Σας έχω την τέλεια συνταγή… Γρήγορη και εύκολη…
Βασιλόπιτα… Δεν μπορεί να λείπει από την αλλαγή του χρόνου γι' αυτό κι εγώ σας την ετοίμασα σε δύο εκδοχές για να επιλέξετε εκείνη που σας αρέσει περισσότερο. Η είναι η Βασιλόπιτα τσουρέκι...
...και η δεύτερη, η Βασιλόπιτα κέικ!
Δεν θα πρέπει να ξεχνάμε, όμως, ότι σε μερικές περιοχές της Ελλάδας η βασιλόπιτα είναι μια αλμυρή πίτα… ιδίως στην Μακεδονία που θα μπορούσε να είναι μια Κοτόπιτα ή μια Κιμαδόπιτα.
Εκτός από τα παραδοσιακά χριστουγεννιάτικα γλυκά, όμως, υπάρχουν κάποια ακόμα τα οποία έχουν τη δύναμη να εντυπωσιάσουν τους καλεσμένους μας και να γεμίσουν τις γιορτές μας με ακόμα περισσότερη γλύκα! Ποια είναι αυτά; Λοιπόν, έχουμε και λέμε:
Ένας καταπληκτικός Κορμός μαρέγκας με γέμιση μόκα - ελαφρύς, με διακριτικό άρωμα καφέ...
Μια καταπληκτική Τάρτα σοκολάτας με μαρέγκα...
Ένα νόστιμο και ιδιαίτερο Cheesecake με βατόμουρα!
Και τώρα, περνάμε σε κάποια πολύ ιδιαίτερα ατομικά γλυκά...
Εκλέρ με σοκολάτα και τζίντζερ
Red Velvet Cupcakes - ό,τι καλύτερο για τα παιδιά!
Για το τέλος, άφησα κι ένα μικρό δωράκι για... τον Άγιο Βασίλη! Αναφέρομαι, φυσικά, σε αυτά τα υπέροχα γεμιστά Μπισκότα βουτύρου με γέμιση πραλίνα σοκολάτας!!! Ε, τόσα δώρα θα φέρει, να μη βρει κι αυτό κάτι κάτω από το δέντρο μας; Μαζί με αυτό δεν ξεχνάμε να αφήσουμε επίσης ένα ποτήρι γάλα κι ένα καροτό για τον... Ρούντολφ!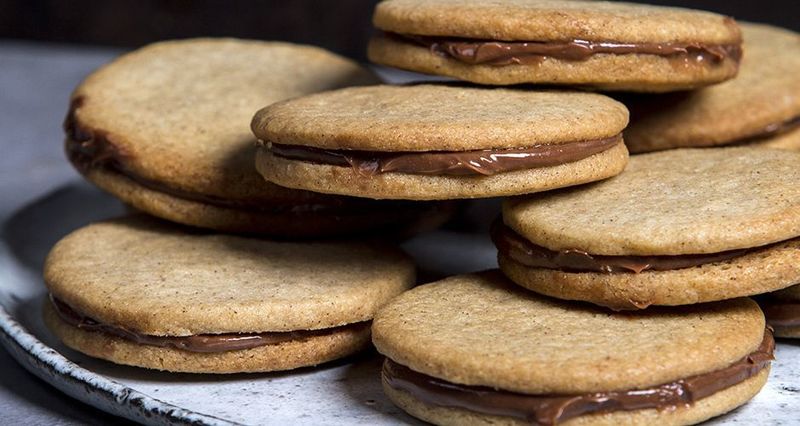 Αυτά ήταν… Τι να πω… Νομίζω ότι σας έχω καλύψει… Α, και σας έχω ετοιμάσει κι άλλες αλμυρές και γλύκες συνταγές για τις μέρες αυτές εδώ!
Καλές γιορτές σε όλους!
Άκης
comments powered by

Disqus