Discovering the wild beauty of Mani
With the team of Akis' Food Tour, we had the pleasure to visit another beautiful area of Greece! A place so special, full of wonderful flavors and unique people who made sure to make my tour of Mani even more enjoyable than I imagined. Where did I start? I started south and specifically from Stavri - a beautiful village with only 5 inhabitants! What did I try? The smoked pork called "syglino" with orange and other local delicacies; so simple, yet so delicious. What did I get? Fleur de sel and "syglino" that I carried up to... "Tigani", a wonderful spot that looked like a movie set. Nature has the power to create the best sceneries... What did I make there? A quick omelet!
Recipe for wild asparagus omelet with smoked pork "syglino"
Place a frying pan over medium heat until it gets very hot. Add 3 tablespoons olive oil and heat it. Take 300 g wild asparagus, cut into 3 pieces, add to the pan, and sauté for 1 minute. Cut 150 g Greek smoked pork "syglino" into pieces, and sauté along with the asparagus. Take ¼ orange, cut its rind into thin slices, and add them to the pan along with 1 tablespoon fleur de sel. In a bowl, break 6 medium eggs, whisk them lightly and pour them into the pan, spreading them well to cover all the other ingredients of the pan. Then, take 50 g cherry tomatoes, cut them in half, and add them to the pan along with 1 tablespoon fresh wild greens, after removing the pan from the heat. Drizzle with a little olive oil and serve.
Next stop? "Limeni"; a picturesque fishing village in western Mani, built - literally - on a rock. Where did I go? At a fish tavern for fresh fish and from there, I headed east to the village "Kotrona" and the tavern of Mary, who served me delicious red mullets "savoro". Filled with flavors and... inspiration, I made my way to Nisaki Beach. My goal was - what else? - to cook a unique pasta dish!
Recipe for traditional pasta carbonara from Mani
Fill a pot with salted water and let it boil. As soon as it comes to a boil, add 250 g tagliatelle and boil for 2 minutes less than specified on the packet's instructions. While the pasta is boiling, grate 150 g mizithra cheese on a box grater and add it into a bowl. Add 2 tablespoons fresh thyme and a little pepper, and mix. In a frying pan over medium heat, add 1 tablespoon olive oil and 1 tablespoon butter, and sauté 100 g Greek smoked pork "syglino" cut into slices, for 1 minute. Then, break 6 eggs into the pan, sprinkle with 1 pinch fleur de sel and a little pepper, let the eggs fry for 1 minute, and remove the pan from the heat. Place a clean pan on heat and add 3 tablespoons olive oil, 3 tablespoons butter, 2 sprigs rosemary, and 2 sprigs thyme and allow a few seconds for the herbs to release their aromas. Remove the herbs from the pan, add the grated mizithra to the pan, and cook it. Drain the pasta and keep 2-3 tablespoons of the water where the pasta boil. Add the pasta along with the water you kept aside into the pan, and mix. Serve your pasta on a platter and garnish with the eggs and the smoked pork. Decorate with a sprig of rosemary and serve.
And after cooking, it was time for… "lalagia"! A famous delicacy of Mani that I tasted at "Aigies", and then I headed to Gytheio where I discovered a super energy snack. This was no other than the sesame bar, "pasteli" that I tasted at Alkistis' gorgeous shop. So full of energy, I set off for my last stop, the beautiful beach with the characteristic Shipwreck! What did I do there? I cooked, of course! What? Sea bream ceviche!
Recipe for bruschetta with sea bream ceviche
Take 2 sea breams. Remove the skin and the bones of the fish, cut their fillets in half lengthwise, then cut them into thin slices, and add them into a bowl. Add the zest and the juice of ½ orange, ½ lime, and ½ lemon to the fish pieces, and mix to get the juice everywhere. Add a pinch of fleur de sel, a little pepper and allow 2-3 minutes for the fish to be "cooked" into the juices of the citrus fruits. Take 10 cherry tomatoes and cut them into 4 pieces, finely chop the white part of one spring onion and ½ cucumber, and spread them over the fish. With your hands, cut 6 basil leaves and add them on top of the fish. Finely chop the green part of the spring onion and add it on top of the fish along with 3 tablespoons olive oil. Lastly, cut 5-6 slices of bread and spread the mixture you prepared over them. Drizzle with a little more olive oil, sprinkle with a little more basil and a little fleur de sel, and serve.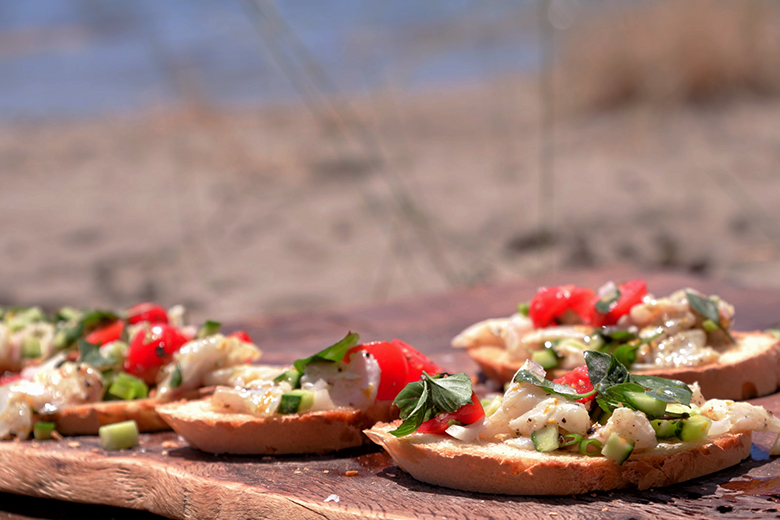 If you ask me what Ι remember of this trip, I will answer you…the desire to return there again and again. I was so touched by its beauty, its people, and its flavors. All this together made up an experience that will be - truly - unforgettable.
Akis