A tasty trip around Boeotia!
A little while ago, I had the pleasure of visiting one of the most fertile areas of Greece. My goal was to take you on another delicious journey. So, I headed for Livadia which is very well-known for the traditional spit roasts, but I - with the help of the locals - managed to discover even more flavors and meet amazing people who continue to evolve the agricultural sector and enrich the gastronomy of the area!
The first thing I did was to discover the secret of the delicious feta cheese of Parnassos. Where was it? It was well hidden in the farm of Dimitris, which produces first-class milk - an incomparable raw material of high quality and nutritional value, that is the most important thing for the production of this unique cheese. I ate my pie and made my way to the dairy with an… unusual -for me- means of transport: The truck that carried this fresh milk to the dairy! There, in Thiva, I watched the tasty "journey" of the famous Parnassos feta cheese, with Yiannis as my guide!
I got my feta cheese and then, I visited Ag. Vlasios longing to cook! You see, I wanted to make use of the feta I had just taken. What did I do with it? The most delicious frybreads that were simply...INCREDIBLE!
Recipe for Greek frybread - Tiganopsomo
In a bowl, mix 500 g all-purpose flour, 1 tablespoon vinegar, 8 g baking powder, 2 tablespoons olive oil, 1 teaspoon salt, a little pepper, and 300 g lukewarm water. Knead with your hands until you get a uniform and firm dough. Then, crumble 300 g feta cheese with your hands and add it to the bowl along with 2 tablespoons oregano. Mix well and shape the dough into balls. In a frying pan, heat a little sunflower oil over medium heat and fry the dough balls for 2-3 minutes on each side. As soon as they are ready, serve the frybreads, sprinkle them with a little oregano or -if you want- drizzle them with a little honey.
So, I made the frybreads, we ate them with my team, and -naturally- our appetite increased. What did we do about that? We headed to Livadia and its famous souvlaki which was - admittedly - delicious! My next stop? Orchomenos. What did I do there? I went to try one of the most famous ingredients of gourmet cuisine - black garlic. Did I try it? Of course, I highly recommend it if you want to give your food a very special taste, which has nothing to do with classic garlic. Then, I headed for Lafisti where I met Antonis; a manufacturer of stevia. He shared with me all his knowledge regarding this amazing natural sweetener, and brought me unique sweets from his workshop.
My search for delicious flavors did not stop there, though. I found myself in the workshop of an award-winning women's association where I tried a unique gourmet tomato jam, but also some delicious cabbage rolls that I will never forget! Well, after all these innovative ideas and tastes, I also wanted to cook…But I wanted to make something that would combine tradition with something more...gourmet. So, I went to Solinari and cooked a traditional paella of Livadia with bulgur wheat and black garlic.
Recipe for paella with bulgur and black garlic from Livadia
Get 1 country sausage, 2 boneless pieces of pork belly (200 g both), 1 boneless pork chop (250 g), 2 lamb ribs and 150 g beef chuck, and cut them into pieces. Add 50 g olive oil into a glass, take 2 tablespoons and put them in the bowl with the meats, along with some salt and pepper. Mix well and set aside. Heat the rest of the olive oil in a pot or in a large frying pan over medium-high heat. Add the meats in batches (if not all) and sauté on all sides until golden brown. As soon as they are sautéed, transfer the meats to a baking pan and sauté in the same pot or pan 1 finely chopped onion and 1 finely chopped clove of garlic, for 2-3 minutes until softened. Then, add 500 g bulgur wheat and sauté for 1-2 minutes until golden. Deglaze the pan with 500-600 g water and stir with a ladle. Add 1 tablespoon vegetable stock pot, 1 pinch of saffron and a little pepper. Add all the meats back into your pot or pan and stir until the water is absorbed. Add another 500-600 g water and 100 g peas, cover with the lid, and allow to boil for 3-4 minutes until the water is absorbed. Remove the pot from the heat and add 50 g butter, the juice and zest of 1 lemon, and mix. Finally, add ¼ bunch finely chopped parsley, 2 tablespoons fresh thyme and 2 spring onions cut into rounds, and serve.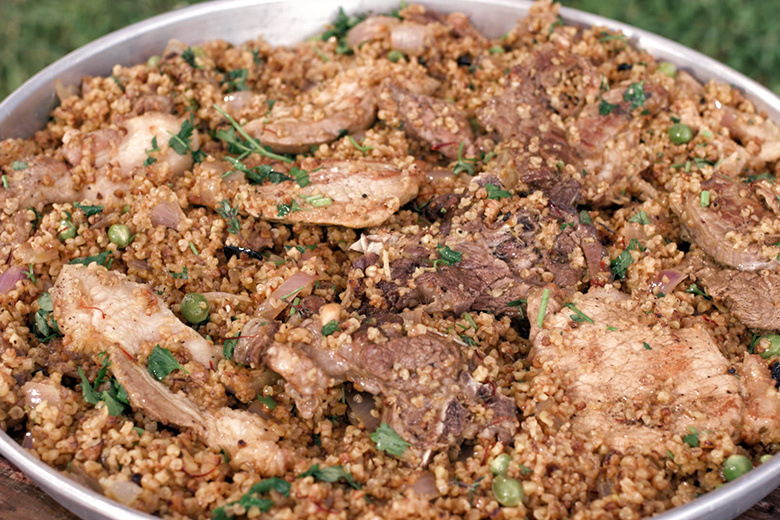 The next day, we went hiking. Without wasting any time, I headed for the Erkyna Canyon where I met the tireless climbers of the local climbing group, who eventually proved to be very…hungry! So, I decided to make them the most amazing lamb chops with an herb sauce, having the Trichino Bridge in the background.
Recipe for lamb chops with herb sauce
Preheat your grill or barbecue on high heat. Take 2 kilos lamb chops, put them in a bowl and add 2 tablespoons olive oil, 4 tablespoons coarse salt, a little pepper, 1 tablespoon rosemary, 1 tablespoon oregano, and the juice of 1 lemon, and mix until combined. Transfer the lamb chops to the hot grill, cook them for 4-5 minutes on the one side and 2-3 minutes on the other side, then remove from the heat and set aside. Next step? To make the sauce with the herbs. In a mortar and pestle, add 1 clove of garlic, 50 g olive oil, 2 tablespoons water, 30 g red wine vinegar, and crush very well until the garlic dissolves. Then, add 3 spring onions cut into rounds, 1 bunch coriander, 1 bunch parsley, 1 small chili pepper, a little salt and pepper, and beat until the ingredients are homogenized and become a thick sauce. Pour the sauce over the meats and serve.
An enchanting landscape… Flavors that combine tradition with modern gastronomy, and people who are –truly– lovable! This is Livadia and -through this trip- I loved it even more!
Akis