Greek flag salad
Vegetarian Diet

Diet based on cereals, pulses, nuts, seeds, vegetables, fruits and other animal foods such as honey and eggs. Excludes meat, fish, mollusks.

Gluten Free Diet

Excludes foods containing gluten, such as wheat, barley, rye and their by-products.

Egg Free Diet

It is usually followed when someone is allergic to this food.

Nuts Free Diet

It is usually followed when someone is allergic to nuts.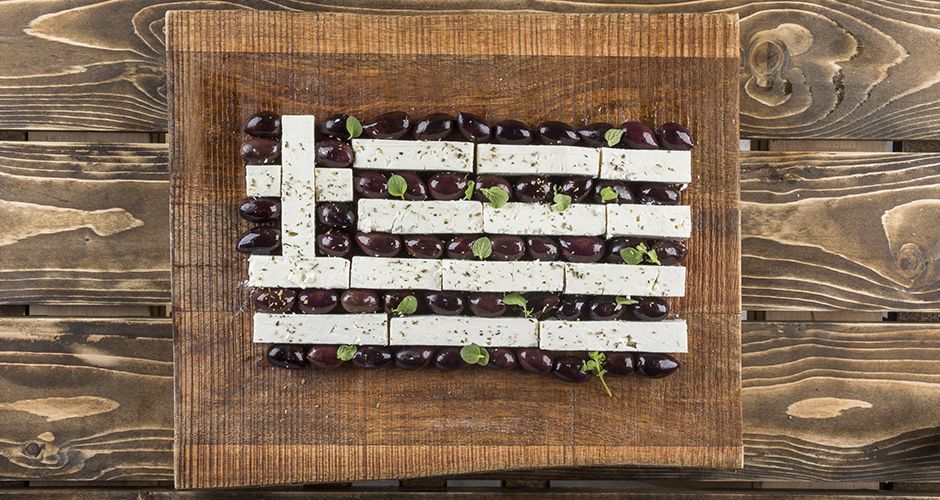 10'

Ηands on

4-6

Portion(s)

1

Difficulty
Method
Use a knife to cut the feta into strips that are 0.5-1 cm thick.
On a wooden chopping board, line up a row of 8 olives. Add a slice of feta right next to them. Repeat the same process until you create 5 rows of olives and 4 rows of feta, placed horizontally.
In order to create the cross, position another strip of feta, vertically on the upper left side and 2 smaller strips of feta on either side, horizontally. This should create the shape of the cross.
Add 2 olives in each gap to complete.
Drizzle with olive oil and sprinkle with fresh oregano and pepper.
Serve carefully so that your Greek flag salad stays intact together with bread.
Rate this recipe
You need to login
Nutritional
Chart
Nutrition information per portion
13 %
Calories
Shows how much energy food releases to our bodies. Daily caloric intake depends mainly on the person's weight, sex and physical activity level. An average individual needs about 2000 kcal / day.
31 %
Fatty Acids
Are essential to give energy to the body while helping to maintain the body temperature. They are divided into saturated "bad" fats and unsaturated "good" fats.
60 %
Saturated Fats
Known as "bad" fats are mainly found in animal foods. It is important to check and control on a daily basis the amount you consume.
0 %
Carbohydrates
The main source of energy for the body. Great sources are the bread, cereals and pasta. Use complex carbohydrates as they make you feel satiated while they have higher nutritional value.
1 %
Sugars
Try to consume sugars from raw foods and limit processed sugar. It is important to check the labels of the products you buy so you can calculate how much you consume daily.
26 %
Protein
It is necessary for the muscle growth and helps the cells to function well. You can find it in meat, fish, dairy, eggs, pulses, nuts and seeds.
0 %
Fibers
They are mainly found in plant foods and they can help regulate a good bowel movement while maintaining a balanced weight. Aim for at least 25 grams of fiber daily.
40 %
Salt
A small amount of salt daily is necessary for the body. Be careful though not to overdo it and not to exceed 6 grams of salt daily
*Based on an adult's daily reference intake of 2000 kcal.
*The nutritional chart and the symbols refer to the basic recipe and not to the serving suggestions.
*To calculate nutritional table data, we use software by