Asparagus deviled eggs
Vegetarian Diet

Diet based on cereals, pulses, nuts, seeds, vegetables, fruits and other animal foods such as honey and eggs. Excludes meat, fish, mollusks.

Gluten Free Diet

Excludes foods containing gluten, such as wheat, barley, rye and their by-products.

Nuts Free Diet

It is usually followed when someone is allergic to nuts.

Low in Sugars Diet

Limits all sources of added sugars and encourages the reduction of high-carbohydrate (high glycemic index) foods. A claim that a food can be classified as LS can be made when it contains less than 5 gr of sugars per 100 gr of solid food or 2.5 gr of sugars per 100 ml of liquid food.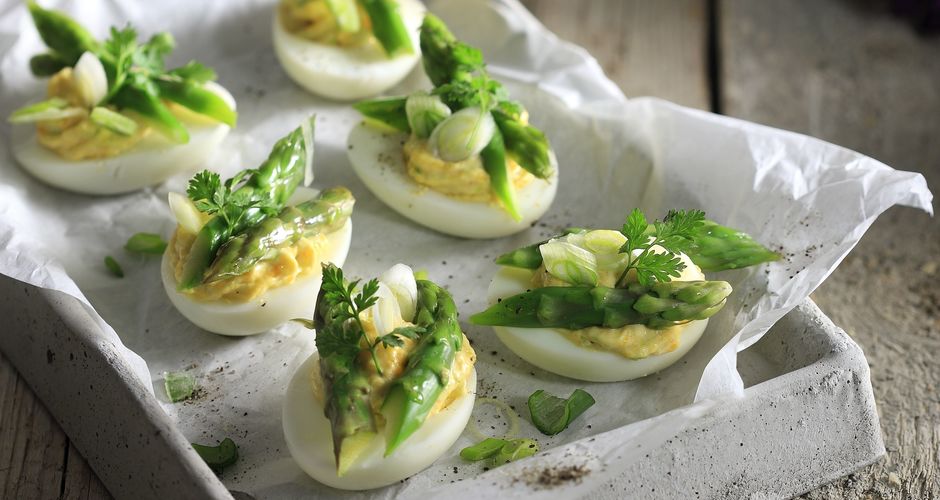 30 minutes

Ηands on

6

Portion(s)

1

Difficulty
Method
Photo credit: G. Drakopoulos - Food Styling: T. Webb
Use a vegetable peeler to peel the asparagus spears. Peel up to 2 cm from tops.
Fill a medium pot with some water and bring to a boil. Add the asparagus and boil for 4-5 minutes, until softened.
Remove from pot and submerge in a bowl full of ice water to stop the boiling process and chill the asparagus completely.
Chop off the tops and set aside.
Dry off the asparagus with some paper towels. You don't want them to be wet when you puree them in a potato masher or chop in a food processor.
You want to remove as much moisture as possible from the puree so it is best if you let it strain on paper towels. They will soak up any excess water. If you do not do this, the texture of the mixture will not be thick enough.
Peel the egg shells from the eggs. Cut them in half, lengthwise. Dip your knife in some water before cutting the next egg. This way you will get a clean cut without getting any yolk on the egg white. Cut off a small slice off of the outer side of each egg half so that it will sit flatter on the plate, without wobbling.
Carefully remove the egg yolks. Pass them through a sieve to get a fluffy "puree". Put puree in a bowl.
Add the asparagus mixture, mayonnaise, mustard, lemon zest and onions. Season to taste and add extra mustard if needed.
Transfer mixture to a piping bag. Fill egg white halves.
Garnish with an asparagus top, cut in half and sprinkle with extra onion.
Refrigerate until ready to serve.
Tip
To boil the eggs properly, place them in cold water and bring them to a boil over low to medium heat. As soon as they start to boil, set timer and boil for 10 minutes. When ready, place in cold water immediately to cool completely. Now they are ready to be deviled!
Rate this recipe
You need to login
Nutritional
Chart
Nutrition information per portion
6 %
Calories
Shows how much energy food releases to our bodies. Daily caloric intake depends mainly on the person's weight, sex and physical activity level. An average individual needs about 2000 kcal / day.
13 %
Fatty Acids
Are essential to give energy to the body while helping to maintain the body temperature. They are divided into saturated "bad" fats and unsaturated "good" fats.
9 %
Saturated Fats
Known as "bad" fats are mainly found in animal foods. It is important to check and control on a daily basis the amount you consume.
0 %
Carbohydrates
The main source of energy for the body. Great sources are the bread, cereals and pasta. Use complex carbohydrates as they make you feel satiated while they have higher nutritional value.
1 %
Sugars
Try to consume sugars from raw foods and limit processed sugar. It is important to check the labels of the products you buy so you can calculate how much you consume daily.
17 %
Protein
It is necessary for the muscle growth and helps the cells to function well. You can find it in meat, fish, dairy, eggs, pulses, nuts and seeds.
1 %
Fibers
They are mainly found in plant foods and they can help regulate a good bowel movement while maintaining a balanced weight. Aim for at least 25 grams of fiber daily.
7 %
Salt
A small amount of salt daily is necessary for the body. Be careful though not to overdo it and not to exceed 6 grams of salt daily
*Based on an adult's daily reference intake of 2000 kcal.
*To calculate nutritional table data, we use software by