Diary
August 7, 2020
Make your summer refreshing!
In the following lines, I have gathered some small "treasures" that you should keep in the back of your mind as you will need them. When will you need them? When you want to quench your thirst after a summer walk. When you look for something refreshing at the beach or at your backyard. When you decide to host a get-together with friends on your balcony or when you just wake up in the morning and want to hydrate and cool down your body.
Also…when you are hungry but do not want to eat. When you want to eat, but you prefer to stick to your diet (well, it's summer after all!). Generally, whenever you need them, these recipes will be there to give you all the hydration, taste, cheerfulness, relaxation, and -of course! - the coolness you desire! Why? Because they are the most super recipes for summer drinks you have ever tried!
So, would you like to take a look at the characteristics that a drink must have in order to be on our… summer list? Well, here they are:
#1
A summer beverage should be tasty and give valuable nutrients to your body.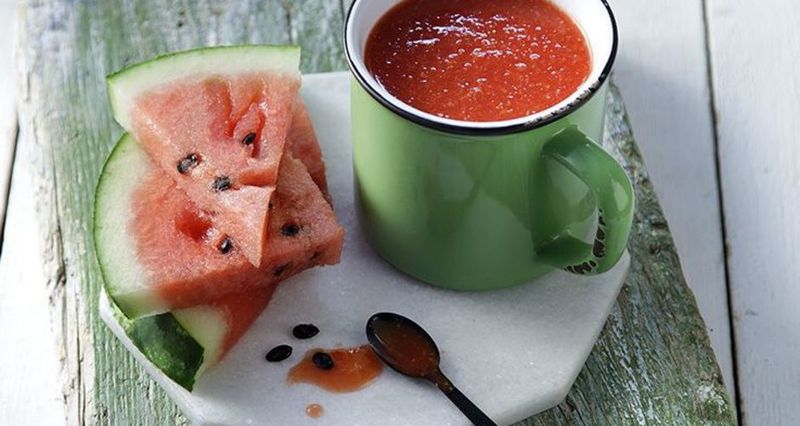 Watermelon strawberry and ginger smoothie
#2
It should be fruity and have a velvety, refreshing texture.
Raspberry banana smoothie
#3
It should be…tropical – if you can't go to tropical places, you could at least taste a little bit of them through a drink ;-)
Coconut fruit punch
#4
A summer beverage should definitely hydrate your body!
Cucumber and red pepper infused water
#5
It should give you energy, without having extra calories.
Peach hummus shake
#6
It should be a classic one, but…with an original recipe made from scratch!
Homemade pink lemonade
#7
A summer beverage should remind you of your childhood…
Watermelon granita
#8
It should boost your mood (just by looking at it) and create an ambiance either you enjoy it alone or with your loved ones!
Gin tonic
Read them, make them, enjoy them, and tell me…what you think about them! Send me your photos and spend the most beautiful and refreshing summer of your life!!!
Have a wonderful summer!
Akis
*/ The main photo is from the recipe Watermelon fruit punch.
comments powered by

Disqus