Diary
November 19, 2020
How to become better pasty chefs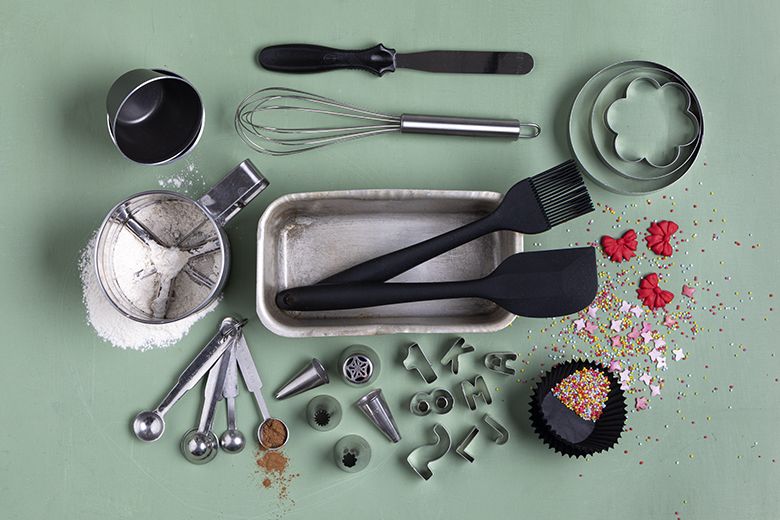 With practice, tried and tested recipes and -of course- the necessary tools and utensils that will make your life in the kitchen easier and your desserts more successful! The first is exclusively up to you. You will find the second one on my website where I have collected -truly- the best recipes that always succeed. As for the third? We will analyze it together through this blog post which aims to help you equip your kitchen with everything you need so that you can prepare the most delicious desserts even more easily and…accurately ;-) So, what do you think? Shall we see them all one by one?
Some of them may already be in your kitchen. Others may seem very "specific". And yet, these slightly more…specific ones are the ones that will help you succeed in making even the most demanding sweet recipes. In the following lines, I have prepared a list of some basic tools that you should have in your kitchen if you love pastry cooking. Which are they? Here goes…
Mixer A mixer equipped with all the necessary tools (whisk, paddle, hook, etc.) should be in the kitchen of every aspiring pastry cook. Of course, plenty of recipes can be made without it but it is undoubtedly an appliance that can help you greatly.
Bowl Yes, yes. You read that well. In them, you will mix different ingredients for the mixtures you need to prepare for your recipes. It would be good, therefore, to equip your kitchen with all kinds of bowls -small and large- and mostly stainless steel but also light glass ones that you will be able to handle easily.
Pastry bag Plastic or disposable for even greater convenience and safety. Pastry bags and tips will help you decorate cakes and pies, fill donuts and cookies, and generally create countless sweet - but also savory! - recipes.
Pastry molds… for cakes, cupcakes, tarts, jellies, soufflés, and generally anything that needs a mold to be made. Metal, porcelain, springform, or made of silicone, they are essential in a pastry cook's kitchen! Along with them, of course, keep in mind the pans.
Spatulas The spatula will help you spread and smooth the surface of a cake, handle the melted chocolate more easily, and in general perform many different tasks with greater ease and more accuracy.
Pastry brush To brush the phyllo, make your doughs more…glossy, and help your cookies get a beautiful color! In fact, in order to avoid finding its hair stuck to your desserts, you should invest in a good brush or -even better- in a silicone brush.
Rolling pin Its use is well known. Α rolling pin is the basic tool that you should have if you want to prepare homemade phyllo, but also to roll out…sugar paste into a "sheet". In the market, you will find rolling pins in countless designs. You simply have to choose the one that suits you best.
Cooling rack On it, your cakes can be cooled without drying out, while it allows you to syrup your desserts in the best possible way.
Scale – Measuring cups Accuracy in pastry cooking is one of the most important things. So, a scale, as well as a set of measuring cups (for those who prefer it) are essential utensils for the success of your desserts.
Sieve Sifting (where necessary) your flour and whatever you use in the form of powder, you achieve an even fluffier result, e.g. in your cakes.
Hand whisk As we've already said, a mixer can be a great help in the kitchen. However, you should have a hand whisk in your drawer, which will allow you to mix or beat some ingredients.
Silicone spatula This is a special spatula that helps you spread your creams and icing. In addition, it helps to gently stir the mixture for your cakes, even scraping off a pie or cake from the sides of the pan before serving it on a platter.
Cookie cutter Somewhere in your drawers, there is definitely one or more cutters. You all know them (or… almost all). It is these small plastic or metal molds that have different designs and help you create cookies with different "themes". Christmas, kids, for Easter, and in general for whatever else comes to your mind.
Thermometer In pastry cooking, accuracy is one of the key factors that will ensure your success. A cooking thermometer will help you to accurately and easily make any preparation, saving you effort, time, and -often- ingredients.
You will find many of the above on the… "shelves" of akiseshop.com. These are some of my favorite items that I use every day both in my studio kitchen and in the kitchen of my house. Try them, see which ones suit your needs, and don't forget to send me a photo of your next sweet creation!
Akis
comments powered by

Disqus