A steaming hot banana cake with milk chocolate just came out of the oven! The pancake you ordered just got poured into a glass and it is full of flavor and love. The new book you are just about to start reading is sitting right next to the buildup smoothie you ordered along with your favorite energy bar and look! Here comes your favorite group of friends! They sit with you, order a bite to eat, hang out and surf the net to see "what's cooking"!

Welcome to Kitchen Lab!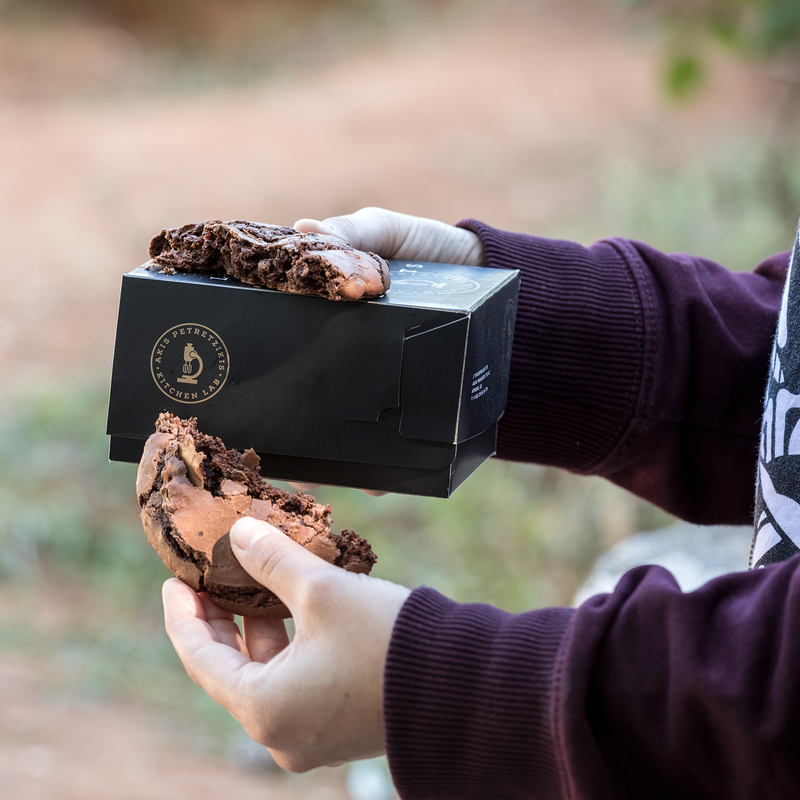 My all new and modern café-bistro, located in Agia Paraskevi, is the most popular hangout… where all you want to do is sink into the plush couches, mute your cell and enjoy all of the freshly made delicacies that come out of Kitchen Lab's busy kitchen!
All you have to bring along is your positive energy! Enjoy a freshly baked Chicken pie along with a slice of luscious Red Velvet Cake or a Banoffee Smoothie! You can also order your coffee to go along with a super fresh pastrami or salmon sandwich. Oh! and don't forget to pick up your triple chocolate cookie on the way out!
Now on the weekends, I switch things up a little since I dare to say that I offer the most delicious brunch in town!! You can enjoy it from 09.00 am to 4.00 pm and believe me when I say that its deliciousness will stay with you for the rest of the day. This is one more reason to visit Kitchen Lab Café Bistro but it certainly isn't the only one! I don't want to give away anything else so I will just let you discover it all when you walk through the door.
What you can find for BRUNCH at Kitchen Lab Café Bistro:

In Agia Paraskevi, Tuesday - Sunday: 09:00 - 17:00 and Monday closed. In Glyfada, Tuesday - Sunday: 09:00 - 24:00 and Monday closed:
THE ULTIMATE PANCAKES: 4 unique combinations for you to choose the one or...more (!) that you like the most.
ENGLISH BREAKFAST: 2 Fried Eggs, Toasted Bread, Bacon, Mushrooms, Sausages, Tomatoes and Baked Beans.
CROQUE MADAME: Homemade Brioche with Béchamel Sauce, Smoked Ham, 2 Poached Eggs and Hollandaise Sauce.
EGGS BENEDICT: Homemade Sourdough Bread, 2 Poached Eggs, Hollandaise Sauce with a choice of: Salmon Gravlax, Pastrami or Turkey.
OMELET OPEN SANDWICH: Homemade Sourdough Bread, Omelet with Various Cheeses, Bacon and Chili-Ginger Marmalade.
GRANOLA YOGURT: Yogurt 2% fat with Homemade Granola & Honey.
Look forward to seeing each and every one of you!
Info: Kitchen Lab Café Bistro Agia Paraskevi, 2 Anthipolohagou Tassopoulou Str., Agia Paraskevi, 15343. Telephone: 210 6016779. Tuesday – Friday 9.00 a.m. – 5.00 p.m. & Monday closed. Kitchen Lab Café Bistro Glyfada, 26 Lazaraki Str., Glyfada, 166 74. Τelephone: 210 9681126. Tuesday – Friday 9.00 a.m. – 12.00 p.m. & Monday closed.
Follow us @ Facebook & Instagram
Akis